IELTS Preparation Courses and Classes in Mississauga
CONTACT US
What is IELTS?
IELTS (International English Language Testing System) is the world's most well-known English language proficiency test for higher education and immigration. The exam tests all forms of English. This includes reading, writing, listening and speaking. A high score on the exam is required by most universities, colleges, employers, and immigration authorities in Canada. Therefore, preparing for the exam is critical to opening doors for newcomers, in terms of education and employment.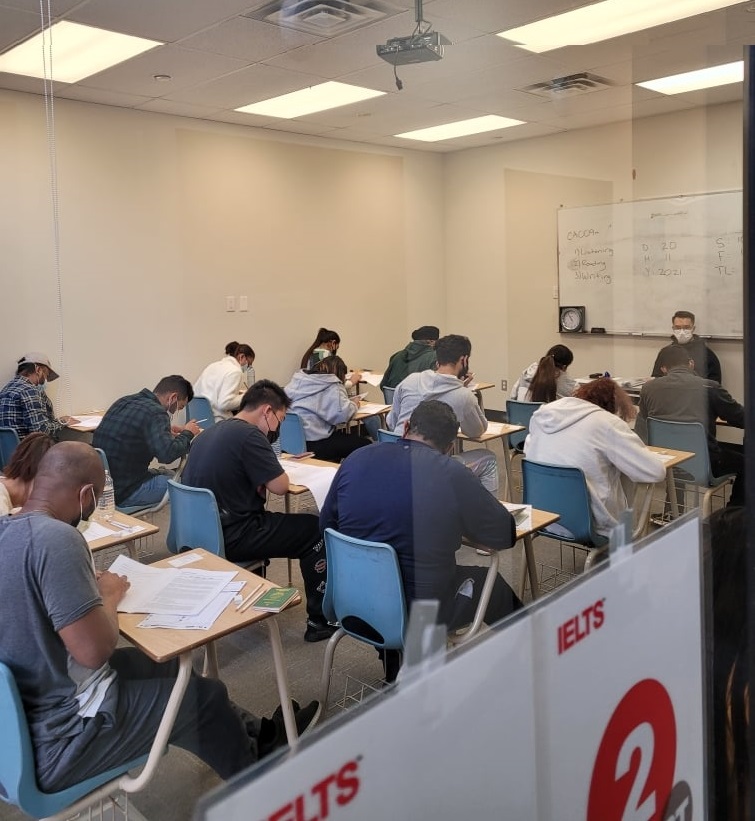 IELTS CoursE Mississauga
The IELTS Course at USCA Academy prepares its students for the test in a number of ways. To begin, two practice tests will be taken to assess the level at which the student is starting at. Then there will be separate modules for study, that focus on reading, writing, speaking and listening.
For reading, students will be trained to answer different forms of questions including multiple choice, matching information, sentence completion, flow charts, writer's views, identifying information, short answers and interpreting diagram labels. Reading comprehension, retention, and analysis will form the foundation of this module.
For writing, the focus will be on improving the compositional skills of the student. This will include the writing of thesis-based essays, letters, opinion pieces and informational texts. The writing of descriptions of visual information such as graphs, tables, charts, and diagrams will also be worked on. By the completion of this module, students will be able to communicate in writing, effectively, in order to present their views or arguments and solve problems. Official writing samples and examiner's comments will be used in this module.
In terms of listening, students will be trained to answer various types of questions through audio. A focus on active listening will help students analyze and synthesize what they hear. There will also be an emphasis on listening to different voice types, accents and volumes so that they are prepared for any form of testing while completing the IELTS. Audio files will be used to improve listening skills.
Lastly, for speaking, students will be taught how to express themselves verbally in an articulate manner. Factors that will be incorporated include continuity, pace of speech, volume, and vocabulary. Additional focus will be placed on speaking in a logical sequence and utilizing conjunctions and articles of speech. After completing this module, students will be able to speak in an eloquent, coherent and connected manner on any topic.
IELTS Preparation in Mississauga
USCA Academy is conveniently located in downtown Mississauga, close to Square One Shopping Centre. With this central location, we are easily accessible to Mississauga's growing population. If you are from a foreign country, then writing the IELTS is a necessity. It is required, to study at most postsecondary institutions in Canada and necessary to work her. With much of Mississauga's population consisting of immigrants, preparing for IELTS is essential to prosper.
IELTS Preparation Mississauga Classes
The benefits of taking IELTS preparation classes are numerous. Being able to study at Canadian universities or colleges can create valuable opportunities for graduates. By gaining admission to a postsecondary institution this leads the way to a successful career. Many make the mistake of not preparing for the IELTS test, and this can lead to a low score which limits the options of newcomers. By succeeding at the IELTS exam, an array of opportunities is available, in terms of education and employment.
6 Ways to Improve Your IELTS Score
1. FOLLOW INSTRUCTIONS
Even if you are writing the Academic or General Test or if you are on Task 1 or Task 2, it is still essential to follow the prompt instructions exactly as they are written or explained. If you write or respond in an inaccurate manner, this can lead to a lower grade. So make sure to do exactly what is asked for in each section of the exam. Whatever part of the exam that you are on, following directions can ensure an optimal score.
2. MAKE AN OUTLINE
Before you start writing, make sure to make an outline. This will help you focus your ideas and thoughts so that the writing process can be facilitated. Formulating a thesis statement and jotting down important ideas will aid in creating more complete pieces. It will also result in a better structured, more organized answer.
3. PUT YOUR BEST FOOT FORWARD
When organizing what you are writing, make it a priority to determine the order that you present your ideas. Your strongest body paragraph should come first, so that this makes a good impression on the examiner. You should write three body paragraphs. The best one first, followed by the weakest and they the second-strongest. This is the most effective and impressionable way to structure an essay.
4. KEEP YOUR IDEAS SIMPLE
Keep in mind that your IELTS answers are not necessarily testing your knowledge or IQ. You are being assessed on how you present your ideas clearly and cohesively in English. Therefore, remember to structure you paragraphs and sentences so that they present one idea per sentence and one controlling idea per paragraph. And, make sure to support your arguments with evidence (an example or explanation) and analysis. Lastly, conclude your paragraph by connecting it to your thesis statement.
5. FOCUS ON LANGUAGE NOT QUANTITY
The writing portion of IELTS does not necessarily need to be length but do consider the required word count. Task 2 essays only need two strong body paragraphs. You can score points with using complex sentence structure and strong vocabulary naturally and accurately. Also, avoid repeating words in your responses. Building your vocabulary is an important skill that is important for succeeding on the exam. Remember to present clear, concise and cohesive arguments and this will result in a higher band score.
6. PROOFREAD!
Although the IELTS exam is timed, proofreading what you have written is an invaluable tool. You will be able to detect spelling and grammatical mistakes. And this strategy offers an opportunity to add sentences or phrases to form stronger connections between your ideas. The value of this technique is that it gives you a chance to perfect what you have written.
The International English Language Testing System (IELTS) is a test that assesses a person's fluency in the English language across 4 domains: listening, speaking, reading, and writing. Each section of the test is scaled from 0-9, where most post-secondary schools have an overall or component-based requirement for international students to gain admission.
Our IELTS preparation courses will prepare you for this exam by helping you gain practice and experience in these 4 categories. Enroll in our IELTS classes Mississauga and prepare for the IELTS language course for better results.